Our Work With Bolton College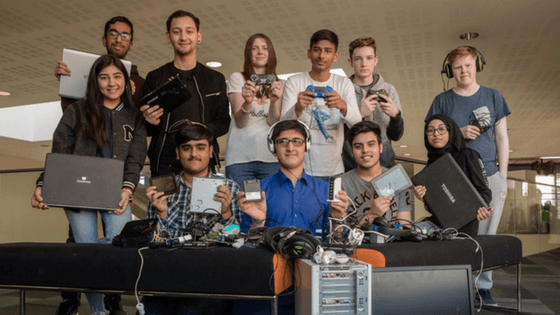 SE Recycling's IT2Schools project allowed students to have full responsibility for the design, execution and monitoring of their individual projects developing their organisational skills, independent thinking and most crucially their confidence to make an impact in their environment.
Achievements
It allowed learners to learn more about, and try out, business and enterprise skills.

The funds raised will be donated to a small local homelessness charity, Bolton Young Persons Housing Scheme.

Facilitated learners' engaging with the Charity and learning about this issue in Bolton

Developed crucial citizenship skills and learners' understanding of their role in their community
The Project
The objective of the IT2Schools project was to create, develop and implement an IT Recycling project with to raise Money for a chosen charity.
Students have to work with the local community to recycle any unwanted ICT equipment through several different channels including social media campaigns, advertisements, handing out marketing material etc.
The recycling value of the items collected will be then handed back to Bolton College to then donate to BYPHS.
Process
Bolton College Students split their project into 5 key parts:
Research – Students conducted research into the ICT recycling sector, marketing strategies and advertising.
Presentation – Using excel,PowerPoint and other ideas to present what they have found out.
Marketing – Online and offline campaigns were created to advertise the project. including social media posts, flyers and posters
Action – Students then went out and started to collect ICT equipment from their friends, family and local community. They were then tasked with organising drop of points and collection dates for the unwanted ICT.
Evaluation – information was then collected, analysed and then assessed with feedback from the students themselves and their peers.
Results
After all the ICT equipment was collected and recycled by SER we were able to provide Bolton College with a cheque for £500 which was then donated to the Bolton Young Persons Housing Scheme.
Like what you see?
Start saving money on your unwanted IT equipment