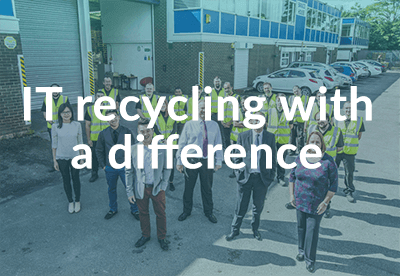 OUR MISSION
SE Recycling's vision is to create a sustainable future for all through our commitment to zero landfill, community engagement and support for charity and education.
ABOUT US
Founded in 2013, SE Recycling is a company that was built on the foundations of ensuring a sustainable future for all through the recovery, refurbishment, and recycling of IT and Communication equipment.
The organisation has grown from its original unit of 9,000 sq ft to a warehouse in excess of 40,000 sq ft in just over four years. During this time, SE Recycling has quickly established itself as one of the largest IT asset management/recycling companies in the North West of England.
As we have grown, we have given back just as much. Our work with charities, schools, hard to reach communities, and our training and skills programme for the long term unemployed are what sets us apart from our competitors.
OUR PREMISES
Our facility boasts a 40,000 sq ft warehouse, with the ability to process in excess of 80,000 WEEE items per month. Security is the main priority at SE Recycling, which is why we have 24 hour CCTV fitted across the whole facility and extra support within our secure areas. Only approved authorised personnel have access to any areas in which data is stored.
WHAT OUR

CUSTOMERS SAY
Thank you very much for all your help in helping run the SER ICT Recycling Project at Stockport Grammar School. The pupils really enjoyed taking part and found it very rewarding. They learnt an awful lot of skills such as marketing, teamwork, organisation and public speaking, to name a few. This was an invaluable experience for them.

The whole school is now far more aware of the issues surrounding e-waste and the problems it poses for our world.
Not only have the learners developed important employment and entrepreneurial skills, they've given something back to the community and should be proud of their efforts.
"SE Recycling offer a quick,  friendly and reliable service providing all documentation required

for disposing of redundant IT and other electrical equipment."