A day in the life of an IT Technician
Fact File:
Name – Darren
Job Role – IT Technician
Born – Manchester
Lives – Manchester
Favourite Film – Star Wars
Favourite Book – Biographies and Autobiographies relating to Wars
Favourite Song – Summertime – Fresh Prince
If a film was made of your life, who would you choose to play you? Liam Gallagher
I usually get up at around 6:30am, so I have enough time to relax, have some coffee and get myself ready for work. As an IT Technician at SE Recycling, I am busy from the second I clock in, to the moment that I leave for the day, and I love it (although my dream job would be to be a footballer but never mind!). My day starts at 8:30am, I come in and switch the power on in the warehouse and turn the computer on to check our eBay sales. We sell all sorts of different computers on eBay, from basic desktop PC's to gaming systems, and I have to allocate a number of PC's for myself and my team of technicians to build throughout the day. I also have to catch up on any messages that have come through overnight from our customers, I get a lot of calls from people who aren't very 'tech-savvy' asking for my help, this is one of my favourite parts of the job as I get to help people get to grips and make the most of the systems that they purchase off us, although I do have a little chuckle to myself at some of the questions I get asked. After I have checked my messages and got back to customers, I then get to work with building the PC's that are going to be sold. This is the part that I enjoy the most, as I have always been interested in IT, and this job gives me the opportunity to build different systems and learn as I'm going along.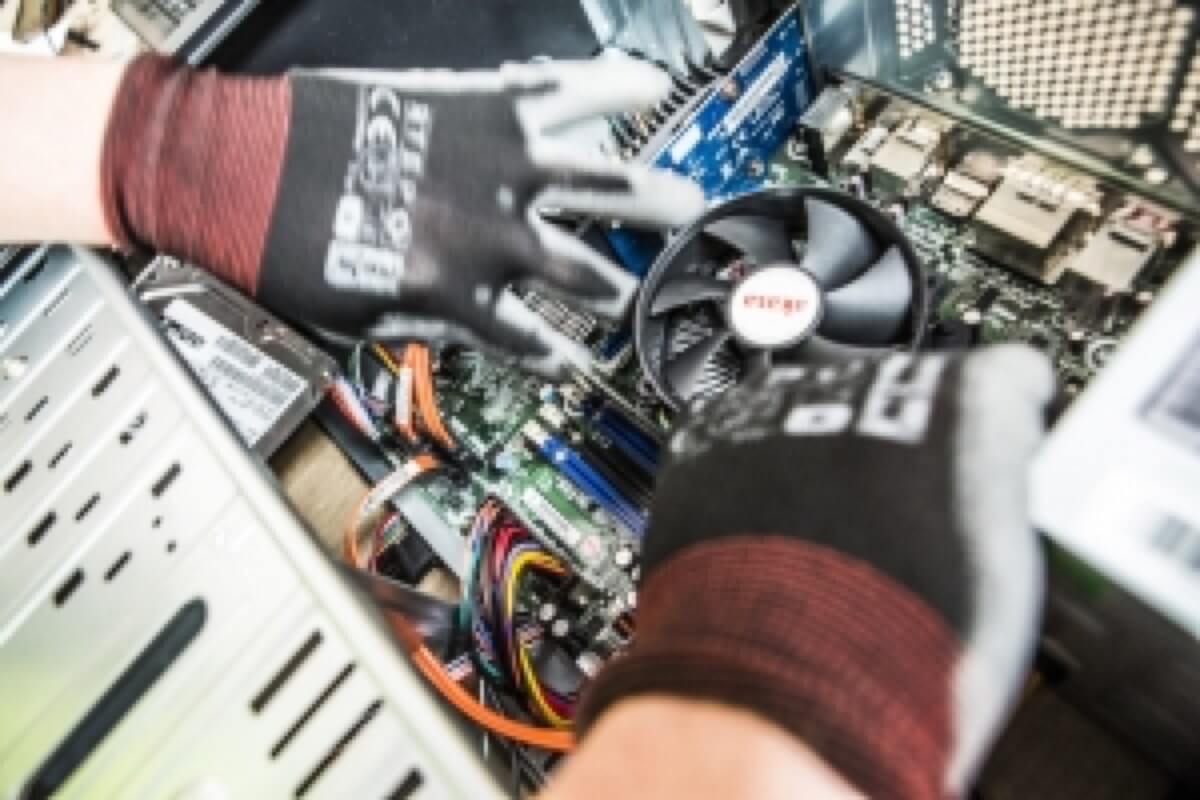 The first part of this process is getting the number of machines that I have allocated myself over to my station, and then beginning to open them up to check the parts. As much as we strive to reuse as many parts as we possibly can (ideally everything!), there are some occasions where some of the parts in the system are just completely unusable and unsafe. In this case, we send them to the team next door to be scrapped. Depending on the specification of the system that I am building, as well as taking into account the parts (if any) that have been taken out of it to be recycled, I then begin to allocate what parts are needed to build it. Some systems only need something very simple, and some need to be completely stripped and built from scratch. Once the systems are built, they then need to be tested and cleaned before we send them out for delivery. I then check for any orders from different businesses/trades, sometimes a company might need 100 monitors, or a school might need 200 mouse's, so we have to ensure these items are also tested and cleaned before they are sent out. As well as this, I am constantly liaising with customers on a day to day basis to help them with orders and repairs. In an average week, my team and I process over 20,000 pieces of IT equipment, so you can imagine how busy we get everyday! The job that we do means that we are preventing a lot of e-waste going into landfill, which makes me very happy to know me and my teams work is worthwhile and making a difference, especially as IT has been a passion of mine for a very long time.
Most days at SE Recycling are mega busy, especially Mondays, but on the odd occasion that we're having a bit of a quiet day, I'll spend the day cleaning the IT equipment, and prepping the warehouse for the next working day, as well as helping the office staff with any technical issues they may be having. This is the least favourite part of my job, I enjoy it much more when we are constantly busy building different systems for our customers. Most days we are non-stop, but with a team like the team we have here at SER, the tasks are always finished efficiently and to a good standard.
Share this story