Nigerias Growing E-waste Problem

The E-Waste menace – MCHIKIRWANDELEJAI
Across the globe, old IT equipment and other electronics (WEEE) are being dumped onto huge waste sites. WEEE waste is the second biggest waste stream behind plastic and has become an apparent problem worldwide especially for those living in poverty.
One country that is currently suffering from this mass dumping of waste is Nigeria. Although the whole continent of Africa only produces about 2.2 million tonnes (mt) of WEEE waste. However, Nigeria receives over 1.1 million tonnes of e-waste a year alone!
Over the past years Africa has become one of the biggest destinations for the dumping of electronic waste but with the amount increasing at an alarming rate, there's a massive risk to the environment and to the people living in places like Nigeria and Ghana. Many people in countries like Nigeria use primitive methods to disposing or breaking down this waste to extract materials. The e-waste is burnt leading to harmful and deadly toxins being released into the atmosphere and into the ground. Below is just a small number of hazardous emissions released from informal recycling practices:
Leachates from dumping activities.
Particulate matter (coarse and fine particles) from dismantling activities.
Fly and bottom ashes from burning activities.
Fumes from "cooking", desoldering, and other burning activities.
Wastewater from dismantling and shredding facilities.
Effluents from leaching activities.
Evaporation of substances.
Revolatilisation of chemicals from soil.
Toxicants like lithium, lead, cadmium and mercury are all commonly found in electronic equipment and so when not disposed of correctly these hazardous substances will seep into the surrounding environment including nearby homes and ultimately people will be exposed to these substances that can cause deadly illnesses and harm to humans and other life. Below is a list of possible side affects people in places like Nigeria and Ghana are facing:
Alterations in thyroid function.
Associations between exposure to chromium, manganese and nickel; and lung function.
Reproductive health: adverse birth outcomes (preterm birth, low birth weight, stillbirth, and congenital malformations).
In e-waste exposed populations height and weight were significantly lower than control population.
Mental health outcomes: behavioural alterations.
Alterations in cellular levels and function: DNA damage and chromosomal
aberrations in lymphocytes.
It has become apparent that this is an issue that needs to be tackled as soon as possible.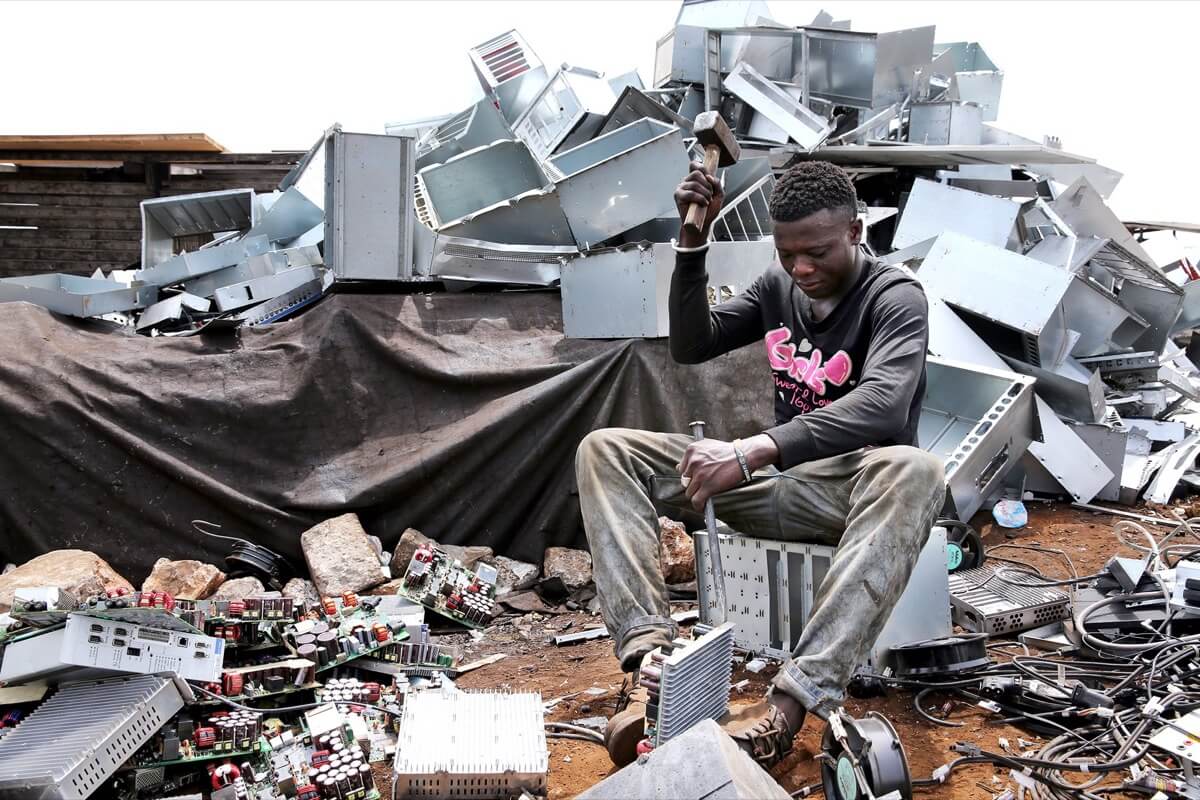 Nigeria's Minister of State for the Environment Alhaji Ibrahim Jibril said: "E-waste is a real challenge an
d environmental hazard. There is a concerted effort by major players in the world to tackle it.
"In Nigeria, you can separate this e-waste into two: the brand-new ones that are imported into the country an
d are sold and used by all of us, and which ultimately come to the end of their shelf life and are discarded as waste, while the second category is the equipment imported into Nigeria as second-hand materials."
Countries like Nigeria receive millions of tonnes of WEEE a years from all over the country including the U.K. Businesses today can prevent this from happening by choosing
to use an environment Agency accredited and approved transfer facility (AATF) & ISO certified recycling company like ourselves to safely and securely recycle all of your unwanted or redundant ICT. we have a zero tolerance to landfill and a passion for giving
back to society.
If you are interested in recycling your unwanted or redundant ICT equipment why not get in touch with us on 0161 637 5656 or email us on info@ser-limited.com
Share this story