Rullion Continues to Raise Funds for Charity During the Pandemic
Through their recycling efforts Rullion has successfully raised £706 for Teenage Cancer Trust, with a combined total in excess of £1000 for charity.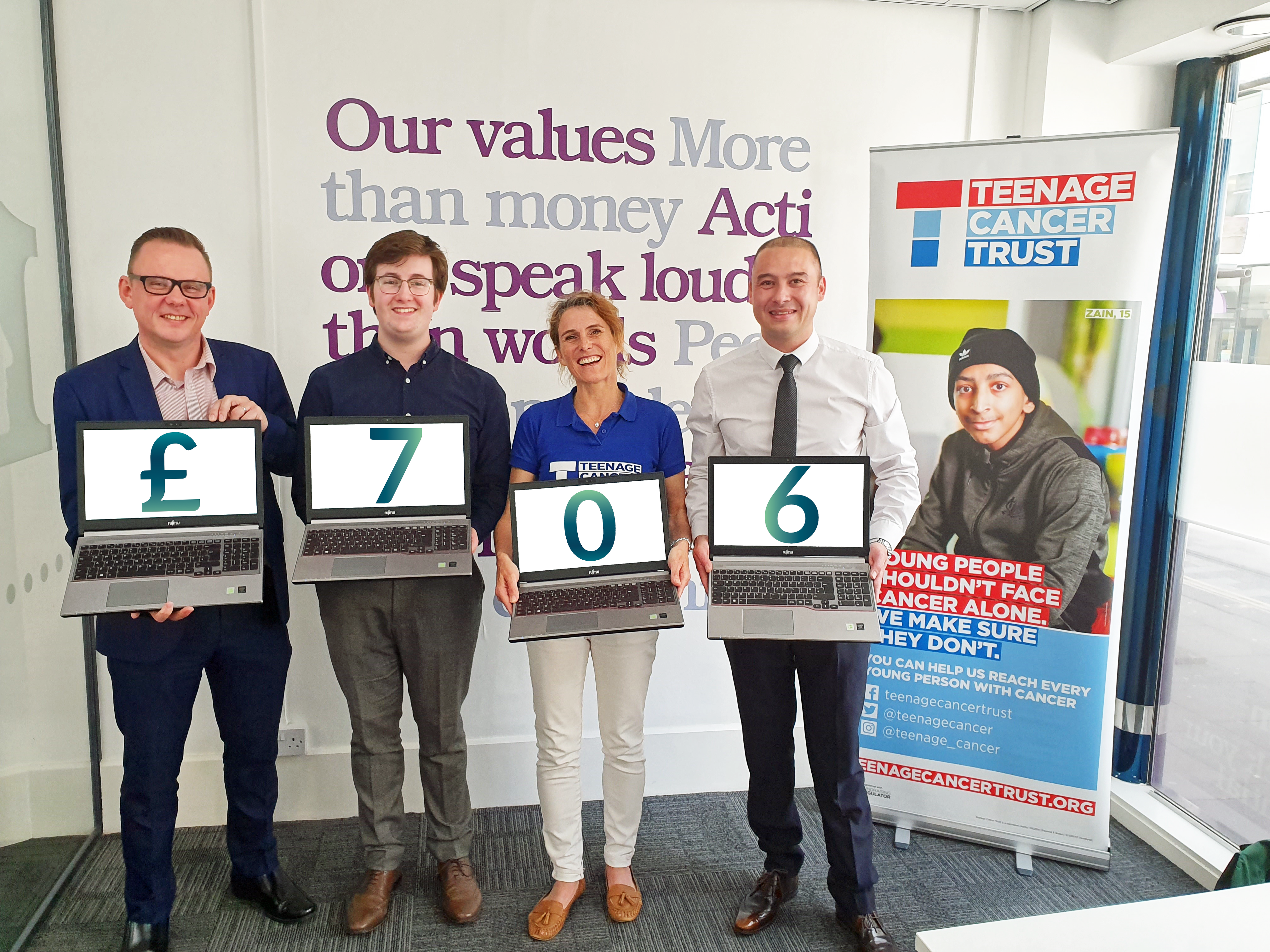 Left-Right: Matthew Hart, Max Nagle, Emma Cross, Simon Chow. Taken at Rullion's Manchester office to celebrate the funds raised for Teenage Cancer Trust in 2019. Image has been 'recycled' and edited to show the most recent donation.
Thanks to their partnership with SE Recycling (S E R), one of the UK's largest IT recycling and data destruction companies, the nationwide recruitment specialist has been able to continue their support for Teenage Cancer Trust during the pandemic.
As part of S E R's sustainable recycling initiative, Rullion was able to turn their waste electronic and electrical equipment (WEEE) into a charitable donation for Teenage Cancer Trust.
The initiative was first created in 2017 with the goal of creating sustainable funding streams for charities and non-for-profit organisations. As a result, businesses like Rullion have been able to provide economic support to those in need whilst simultaneously doing their part in helping improve the environment.
Teenage Cancer Trust is the only UK charity dedicated to improving the quality of life and chances of survival for young cancer patients aged 13-24. Their world-leading care and support puts young people in the best possible place, physically, mentally and emotionally, for their cancer treatment and beyond. The charity funds specialist units in NHS hospitals and provides dedicated staff, bringing young people together so they can be treated by teenage cancer experts in the best place for them.
Emma Cross, Relationship Manager North West at Teenage Cancer Trust, said "The ongoing pandemic continues to put pressure on traditional streams of fundraising. Schemes that enable businesses to give back in a sustainable way, such as this, are hugely valuable to us. We are most grateful for the ongoing support from both Rullion and SER. Teenage Cancer Trust are 100 per cent reliant on voluntary donations so every pound raised is vital in providing our specialist services for young people with cancer."
Matthew Hart, Finance Director, Rullion commented: "We are thrilled to once again be part of SE Recycling's programme and the opportunity it gives us to support charities like the Teenage Cancer Trust, who do vital work improving the lives of young cancer patients. We are also inspired by the chance this gives us to protect the planet for future generations as we're passionate about creating a cleaner, greener and more sustainable world."
SE Recycling's Managing Director, Gary Mo said: "Many charities and organisations have been hugely impacted by the pandemic and we want to help support those affected in any way we can. Thanks to Rullion's recycling and fundraising efforts they have helped us in achieving our goal of helping create a sustainable future for all."
To find out more information on how you can help support Teenage Cancer Trust please visit https://www.teenagecancertrust.org/ and click 'Support Us'.
Find out more information about who Rullion are and what they do by going to: https://www.rullion.co.uk/
Share this story