Rullion Goes Green for Charity
Rullion, one of the largest recruitment companies in the UK has helped raise over £300 for Teenage Cancer Trust by recycling their redundant ICT equipment.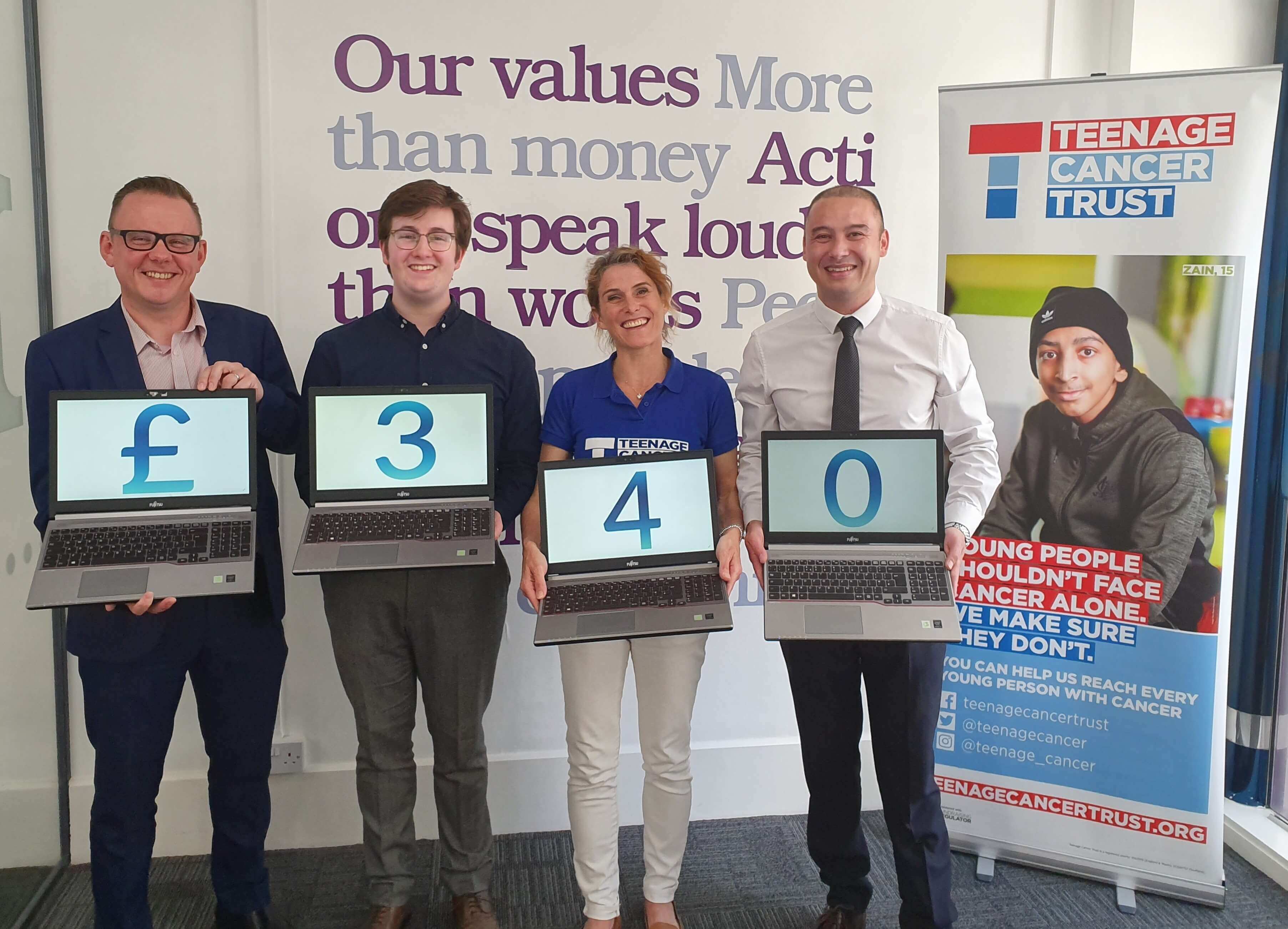 Left-Right: Matthew Hart, Max Nagle, Emma Cross, Simon Chow. Taken at Rullion's Manchester office to celebrate the funds raised for Teenage Cancer Trust.
Partnering with SE Recycling (S E R), Rullion was able to raise £340 for Teenage Cancer Trust.  S E R organised and carried out the collection of Rullion's redundant IT and electrical equipment, ensuring nothing went to landfill.
Once the collection of Rullion's ICT equipment was complete, S E R and Teenage Cancer Trust were invited to their Manchester office to discuss how the donation will help the charity support young people facing cancer.
Teenage Cancer Trust is the only UK charity dedicated to improving the quality of life and chances of survival for young cancer patients aged 13-24. Their world-leading care and support puts young people in the best possible place, physically, mentally and emotionally, for their cancer treatment and beyond. The charity funds specialist units in NHS hospitals and provides dedicated staff, bringing young people together so they can be treated by teenage cancer experts in the best place for them.
During the visit, Emma Cross, North West Regional Fundraiser at Teenage Cancer Trust highlighted the huge impact donations have on an individual, and that even the smallest amount can make a difference.
Emma said: "Every day, seven young people aged 13-24 hear the words "you have cancer". We are dedicated to ensuring every young person facing cancer is given specialised emotional care and support. Cancer can throw young people's lives into chaos. Even for those who recover, it can have a lasting impact on their future.
The donation from Rullion could fund over 11 hours of specialised nursing care provided to young people in the North-West. We are delighted to have this support from Rullion"
SE Recycling's Collection's Manager, Simon Chow said: "Thanks to the partnership with Rullion, we are able to help support this life-changing charity and hope that through this, more businesses can follow in Rullion's footsteps."
Matthew Hart, Finance director at Rullion said: "We are very proud to donate funds to such a great cause like Teenage Cancer Trust. Rullion have a strong passion for supporting charities and the environment and so were delighted when we found out we could raise funds for Teenage Cancer Trust by recycling our old IT equipment."
To find out more information on how you can help support Teenage Cancer Trust please visit https://www.teenagecancertrust.org/ and click 'Support Us'.
Find out more information about who Rullion are and what they do by going to: https://www.rullion.co.uk/
Share this story